Virginia Supportive Housing springs forward!
In the past year, the VSH community has demonstrated remarkable resilience. With your steadfast support of our work as we navigated extraordinary challenges, we were able to look to the future while adapting to the unusual present. We look forward to what we will accomplish together in 2021.
Thank you for continuing to join us in our mission of ending homelessness.
As we near the one-year mark of navigating the COVID-19 pandemic, VSH continues to prioritize the health and safety of our teammates, residents, and program participants.
Our headquarters at Discovery Drive will remain closed at least through June, with many of our teammates working remotely.
Teammates working directly with residents and program participants continue to maintain social distancing and wear appropriate PPE.
We are also working to secure vaccine access for interested teammates, residents, and program participants. VSH spans several health districts, each with their own processes for distribution. We continue to work with local health officials to determine how and when vaccines will be made available.
Our ongoing conversation on racial justice
Last week in the Richmond Times-Dispatch, columnist Michael Paul Williams reminded us that "we will have no racial justice without housing justice." His timely column reinforced what we involved in homelessness and housing work know to be true: that systemic racial discrimination shapes the demographics of who experiences homelessness and housing instability in the United States. Ending homelessness and housing instability requires understanding and addressing these systemic injustices. In other words, racial justice and housing justice are deeply intertwined, each impossible to achieve without the other.
Please explore this set of educational resources on the history and legacies of systemic racial discrimination in housing as well as how they continue to shape lived experiences of Black people in the US today.
M.A. Dennis - self-described as "Poet Laureate of Undomiciled & Formerly Homeless Individuals" - concludes "A Poem Reflecting on Black History Month" by calling attention to the "lasts" in Black history: the last Black person to experience racial violence, or be subjected to generational poverty.
Dennis' poem reminds us that our mission at Virginia Supportive Housing of permanently ending homelessness is also in pursuit of a "last." That racial justice must be central to our work, mission, and organization.
Special Feature: New Partnership in Hampton Roads
Traditionally, community healthcare organizations focus their resources on best serving the immediate needs that come through their door: the downstream health conditions of their communities. But what if the frequency or severity of those health conditions could be reduced? What if health providers also looked upstream, at the conditions in the community that shape the health of their patients?
In January, Virginia Supportive Housing finalized a two-year pilot partnership with Sentara Healthcare and Optima Health, with additional support from LISC Hampton Roads, to do just that.
The partnership employs an innovative strategy to improve community health in the Hampton Roads region: using funding from healthcare partners to provide permanent supportive housing to vulnerable individuals, reducing the downstream need for frequent or significant medical interventions.
Sentara and Optima began looking "upstream" in 2019. "Sentara Healthcare and Optima Health are committed to becoming anchor institutions in our communities, which means we play a vital role in community resilience. This top-down commitment to the people in our community requires us to look for solutions outside of traditional health care such as those solutions related to social determinants of health."
Social determinants of health are "those factors outside the clinical setting that impact health outcomes," says Christine Morris, the Executive Director of LISC Hampton Roads. "In Hampton Roads, those factors can result in a disparity of up to 25 years of longevity between our highest and lowest income census tracts."
Sherry Norquist, Director of Corporate Social Responsibility at Sentara, and Traci Massie, Director of Government Programs at Optima, framed their search for solutions by evaluating what would make the most significant impact. "This perspective has focused our support on several social determinants of health with a focus on housing, skilled careers, food security, and behavioral health."
Enter Virginia Supportive Housing. The success rates of the evidence-based approach of permanent housing combined with wraparound supportive services in improving health and housing outcomes made VSH a natural fit for this innovative partnership. In fact, VSH is already piloting a similar program in Richmond in partnership with VCU, with the goal of reducing use of the emergency department for those participating, already with impressive results. With these qualifications in mind, the four organizations finalized the partnership in January.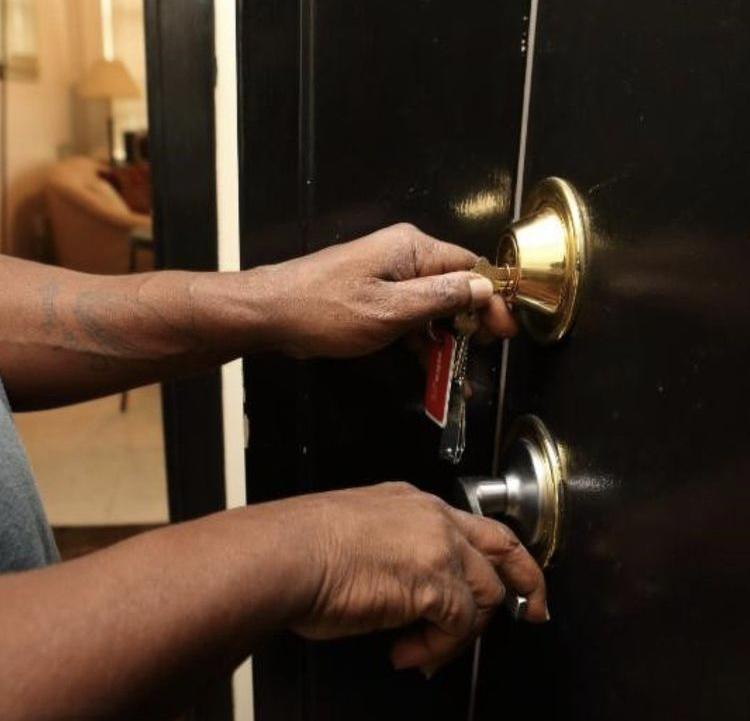 Over the course of the next two years, Sentara, Optima, and LISC will provide VSH with the funding to provide 12 individuals in South Hampton Roads with housing services and wraparound supportive services through VSH's scattered site permanent supportive housing program. In doing so, the partnership seeks to achieve two key goals:
-That participants remain stably housed throughout the program, reducing the experience of housing instability in the region.
-A commitment to offering wraparound supportive services that will enhance the participants' overall well-being and mental health.
With VSH's expertise and funding from Sentara, Optima, and LISC, the partnership is set to deliver transformational results for individuals facing housing instability and co-occurring health conditions. "This partnership will dramatically improve the quality of life for some of our most vulnerable neighbors and be a springboard for future collaborations to address the growing need for supportive housing in the region," says Allison Bogdanović, VSH's Executive Director.
Sherry and Traci praised the innovation behind the approach, which offers benefits for both the individuals served and providers who can deliver the right care in the right setting at the right time. "This is a critical time for all providers and networks to think outside of the box. The benefits of this partnership will bridge a gap in the social determinant safety net for those who need housing with wrap around services. As we provide for basic human needs, we can further offer critical support and access to care and help our patients become well and self-sufficient."
More news from around VSH
Behind VSH's role reducing evictions in 2020
For eight months in 2020, a team of dedicated individuals from Virginia Supportive Housing took on a new challenge in addition to their regular work: the Virginia Rent and Mortgage Relief Program (RMRP).
Created to "support and ensure housing stability" in Virginia during the pandemic, RMRP was an opportunity through the Department of Housing and Community Development (DHCD) for tenants and landlords to access financial assistance towards rent or mortgage payments. VSH partnered with DHCD to help distribute the funds from April 1-December 30, 2020. This program was integral in preventing thousands of families from experiencing eviction, and VSH teammates played a key role in administering the program.
Maddi Zingraff, VSH's Contract Specialist, was the project manager:
"Our pilot team quickly created an efficient and highly communicative process to approve applications and pay rent for those who had been affected by COVID. It felt like we were making a huge impact when we would hear back from tenants who otherwise would not have been able to remain housed because they lost their income during the pandemic. Additionally, we are already implementing pieces of the process that were developed with RMRP to pilot other new projects for VSH, which will hopefully be a huge advantage going forward."
We are so proud of our teammates for their participation in this project!
Interested in learning more?
Click here to read an op-ed by Kathleen Barrett, CEO of St. Joseph's Villa, on their experience administering RMRP, from the Richmond Times-Dispatch.
Click here to read more about RMRP in the greater Charlottesville region, from the Daily Progress.
Story of Hope: Patina
Before Patina was injured in 2009, she says "I was good." As a bus driver, she was paid well and had an apartment of her own. But the injury and a subsequent knee replacement surgery inhibited her ability to work. For years she lived with different family members, but without health insurance, she was unable to access medication and manage her chronic health conditions, including ongoing pain in her knee and high blood pressure.
Patina moved to Richmond in January 2018 to live with a cousin, but felt she couldn't live there full-time — "I didn't want to burden her." So her cousin helped her gain access to support services: health insurance through VCU, food stamps, a Housing Choice Voucher. Patina also got on the list for an apartment through VSH, which the Voucher helped her afford. She moved into her own apartment in New Clay House on March 29th, 2019.
Patina says that she has learned a lot during her time at New Clay, both about herself and about the variety of experiences that fellow residents have had. She appreciates the privacy of her apartment and now regularly uses medical support services and attends church services at New Clay.
Patina outside New Clay House.
Reflecting, Patina says that it has taken her "a lot of steps to get to where I am now" but she is grateful for the support of her family and her faith in getting here. Now, she says, "I try to stay happy no matter what my situation is."
ICYMI: 2020 Impact Report is live
Our 2020 Impact Report is now on our website! Check out highlights from the report on our social media or read the report in full here.
You may notice that this report looks a bit different than reports past. This year, we decided to transition our annual publication from an Annual Report — which reflects only on the previous calendar year — to an Impact Report. With 2020 bringing so many unexpected changes and challenges, we wanted to create space to acknowledge that alongside our experiences in 2019. We hope you enjoy this new approach!
Board Additions
VSH is thrilled to welcome two new members to our Board of Directors!
Leslee Oliver is a Development and Strategy Communications Specialist at civil engineering firm VHB. She has been involved with VSH for several years, both as a long-term volunteer at New Clay House as well as previously serving on our Junior Board, including as President from 2018 - 2019.
You may recognize the name George Stroud from our Impact Report! George was a longtime resident of Heron's Landing, one of VSH's supportive housing communities, before his participation in the Move On program. In joining our Board, he brings his lived experience and amazing energy to VSH's leadership.